As it is a fresh start with GT6 we have opted to do things a little differently this time around. As allot of you already have seen we have put the GT Arena Q1 Qualifier up for vote. We are still expecting a few votes so please take a look and have your say.Brands hatch in any car will be fantastic, and should prove very close regardless of the car.

Click here to be taken to Poll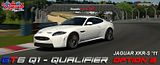 If you are new to the site you can find out more about the GT Arena QualifierHERE
.