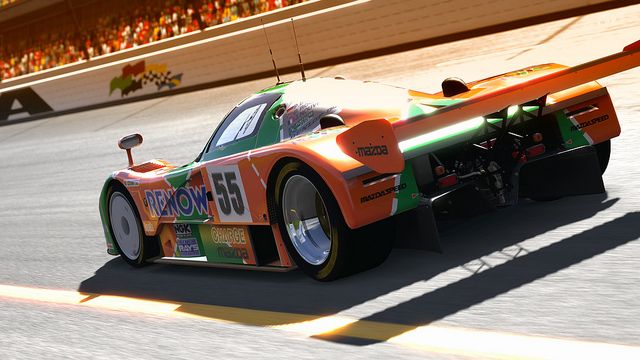 Pikes Peak Challenge

31/05/2013
Time 8pm GMT
This is a one lap wonder, pacing yourself up Pikes Peak Raceway on a track that nobody has seen.
6 CARS TO CHOOSE FROM
Eligible Cars
MINOLTA TOYOTA 88C-V RACE CAR '89
SAUBER MERC C9 RACE CAR '89
NISSAN R89c race car '89
NISSAN R92cp RACE CAR '92
787B MAZDA
XJR-9 LM RACE CART '88
RACING SOFTS
TUNING PROHIBITED
OIL CHANGE (YES)

This casual event will take part in an Open Lounge
If want to take part please message Turbonato via PSN for The Lounge number
You will be tested to push as hard as you can,but maintaining a clean lap.You will experience an average of 800 horses behind you with all the grip the car will give, throw it off the track and that's you done.
So controlling all that power around a twisty track will take patience and concentration.
The night will start with one driver at a time doing a time attack. While this happens we all get to watch the skills and breathless concentration coming from the drivers cockpit. Not only will this Pikes Peak break you, you will also have every opponent watching every move you make. So will the pressure be a factor?

While you are doing your hot lap make sure you turn your mic off as the other drivers will be chatting in the room.

Once everybody has done there first time trail you will be offered a second life.

We will all then take part on the track and the first person who shows up on the no1 grid must start on the count down( as if you were starting a race)
You must all then move forward one place and the person who was second on the grid now becomes number 1. You must start your lap twenty seconds after the first person has left. That goes for the rest of the field.
Basically there will be 20 seconds between each car.

If you do hit the barrier/s you can still carry on just remember you only have a twenty second gap from the car behind so please watch out and if you do find yourself running out of time (20 seconds) make sure you check when returning to the track.

I will be your race commentator/helper so there's no need to panic as I'll talk you through your start. Drivers who are coming through to finish there lap must stick to the to right of the track as not all will have started there lap.
These cars are different and some are faster than others but make sure you choose something that fits your style of driving. To much power is not always the fastest.
Once the winner has been crowned king/queen of the Pikes peak challenge we will move on to Circuit DE LA Sarthe where we will do 5 lap races on Racing Hards.